Published on 27 Sep 2017
Police have arrested 31 suspected members of notorious kidnapper and armed robbery gangs terrorising travellers along the Abuja–Minna and Abuja–Kaduna highways.
The suspects, including their leader, one Hussaini Mohammed who is also known as 'General Maigemu Sambisa', were paraded by the Force Public Relations Officer, Jimoh Moshood, on Tuesday at Dikko in Niger State.
Some of the suspects paraded are Adamu Hussaini, Bala Mohammed, Hassan Hashimu, Ibrahim Badamasi, Babangida Hamza, Umaru Abubakar, and Karo Ladan among others.
Items recovered from them include four AK 47 rifles, two English Berretta pistols, two locally made pistols, five sets of army camouflage uniform and one international passport belonging to a kidnapped victim.
Others are eight operational vehicles, two Golf Volkswagen, one Honda Civic, 95 7.62 x 39mm ammunition, 15 9mm ammunition, two laptops, and one digital camera among other items.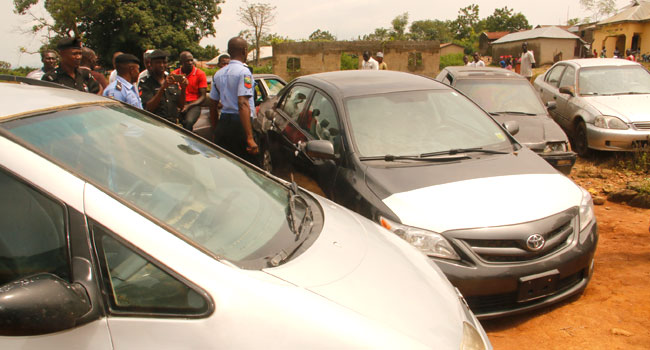 Mr Moshood said the arrest followed the reinforcement of Operation Absolute Sanity on the Abuja-Minna Highway with more police personnel by the Inspector-General of Police, Ibrahim Idris.
He said the team were deployed to tackle the gangs of kidnappers that escaped arrest on the Abuja–Kaduna Highway and relocated to some roads in Niger State.
The police spokesman said five suspected kidnappers died in a gun battle with the police, while one Sergeant Shettima Abdulahi lost his life earlier on Tuesday when the team fell into an ambush by the suspects.
"The above mentioned suspects were arrested in their hideouts and camps where some of their victims were rescued and the listed firearms, ammunition, army camouflage uniforms and operational vehicles of the kidnappers were recovered from them," he said in a statement.
"In the operation that is still ongoing, four different vicious and notorious kidnap for ransom gangs, including those dealing in illegal possession of prohibited firearms were dislodged and busted."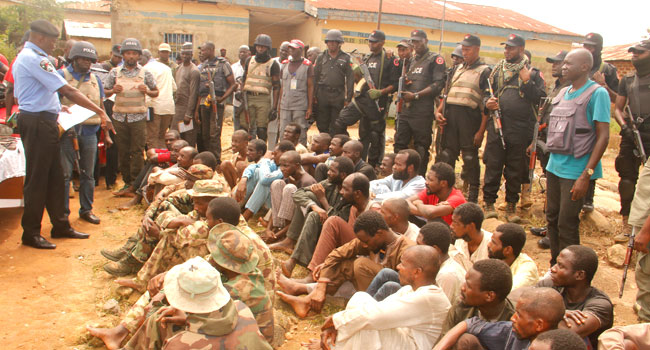 Also arrested was a gang allegedly responsible for the death of some security personnel who were recently killed along the Kaduna–Abuja and Abuja–Lokoja roads.
"A total number of 31 suspected kidnappers/armed robbers were arrested in the operation. They confessed to the offence and admitted to the various criminal roles they played in committing the crimes.
"Most of the suspects were identified by the victims and for being responsible for their kidnap," Moshood added.
He said efforts were ongoing to arrest other suspects at large, noting that all the suspects would be arraigned in court as soon as the police conclude their investigation.
He was hopeful that the renewed commitment of the police to reducing crimes across the country was yielding positive results.
Submitted by :
newsman